20th Flower Carpet blooms in Brussels' Grand Place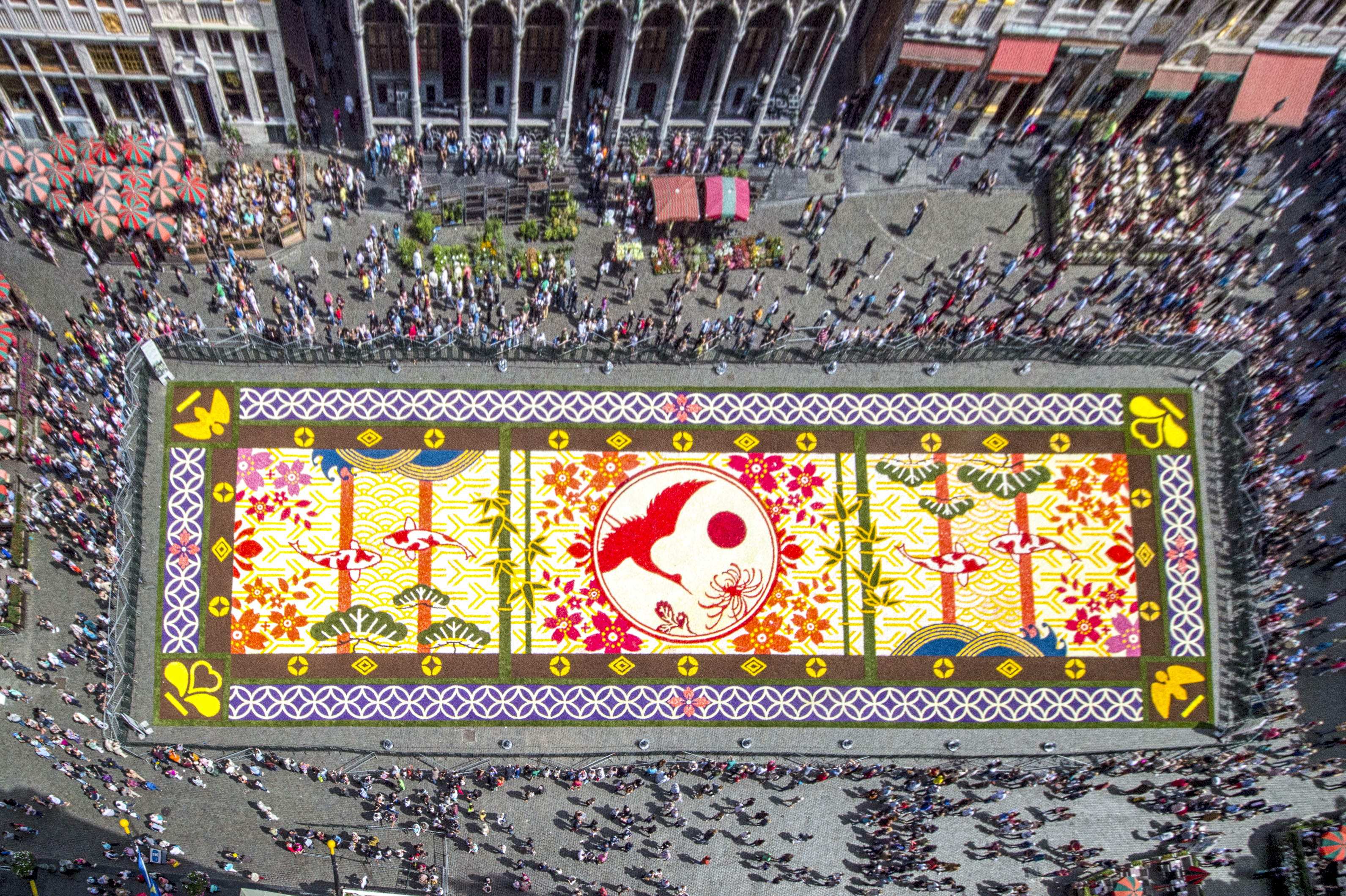 Friday 12 August 2016 – After two years of preparation, the 20th Flower Carpet is finally on show in the Grand Place for visitors to admire over the next three days. This year's carpet celebrates 150 years of Belgo-Japanese relations and features a Japanese design in honour of the occasion.
Here are our top five facts about the 20th Flower Carpet:
1. It is made up of 600,000 flowers. Most of them are begonias, but there are also dahlias, grasses and dyed bark.
2. It is 75 m long and 24 m wide - that's more than 1,800m² of flowers!
3. It took a team of 100 volunteers eight hours to put it together.
4. It was conceived by a young Japanese designer, Fuji Suzuki, who drew inspiration from Japanese representations of flowers, birds, the wind and the moon to depict the beauty of nature.
5. It honours more than 150 years of friendly commercial, diplomatic and social relations between Belgium and Japan.
Practical info
The Grand Place in Brussels will be dressed in its Flower Carpet on 12, 13, 14 and 15 August 2016. The public will be able to access it on 12 August from 1 pm to 5:30 pm and on 13, 14 and 15 August from 10 am to 10 pm.
The opening ceremony, fireworks and sound and light show will take place on 12 August at 10 pm.
If you want to admire the carpet as a whole, don't miss the panoramic view from the balcony of the Town Hall. Visits will be available from 10 am to 10 pm (last entry at 9:30 pm).
Entry price: €5.
Children under 10 get in free.
Press File
DOCX - 14 Mb
Download