Brussels Flower Carpet brings Mexican cultural jewel Guanajuato to the centre of Europe
20th anniversary of the Grand-Place as a Unesco World Heritage site celebrated with an extraordinary floral exhibition at Brussels Bourse square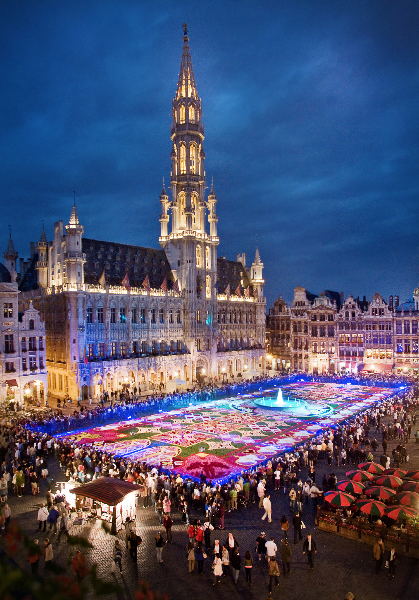 For the first time in its history the Flower Carpet on the Brussels Grand-Place adopts a Latin American theme. This summer it is devoted to Guanajuato, a Mexican region with an exceptionally rich culture, history and flower tradition. To celebrate the 20th anniversary of the Grand-Place becoming a Unesco World Heritage site, this year visitors will also be treated to a stunning floral exhibition at the Bourse square.
More than 500,000 flowers on the "most beautiful central square in the world": the Flower Carpet, which can be admired from 16 to 19 August inclusive, attracts tens of thousands of enthusiasts to the capital of Europe from home and abroad every two years. This year will be no different, because the organisers' decision to adopt "Guanajuato, cultural pride of Mexico" as the main theme promises another captivating edition that brings two of the world's most important floral traditions together.
Unprecedented cultural treasures
The colourful Mexican state of Guanajuato has a long tradition of creating carpets, just like Brussels. The annual highlight is "La Octava Noche" in Uriangato, a city in the south of Guanajuato. There, residents decorate kilometres of streets in carpets of coloured sawdust in memory of their patron saint, archangel St. Michael, which they share with the City of Brussels.
Although this religious tradition dates back to the Spanish colonial era, the tradition of creating sawdust carpets began in 1966. This annual spectacle is traditionally concluded with a nighttime procession over the carpets, "La Octava Noche" ("The Eighth Night"), the most important event for ephemeral art in Central Mexico. Uriangato has already organised two international meetings for flower carpet artists.
However, Guanajuato is also a region of unprecedented cultural treasures. With two World Heritage cities - the capital city of the same name, Guanajuato, and San Miguel de Allende - and five "magical villages" ("pueblos mágicos") known for their authentic and historical character, archaeological sites and contemporary art scene, it has a great many goodies to offer.
What's more, it is also the birthplace of a number of indigenous population groups, such as the Chichimeca, the Otomí, the Chupicuaro and the Purépecha or Tarascan, renowned for their precious earthenware and rich culture. Uriangato is a place where the Chichimeca and Purépecha civilisations converge. In short, providing an abundant source of inspiration for the first Latin American carpet on Belgian soil.
A puzzle spanning 1,800 square metres
The original design of the carpet was produced by the young graphic designer Ana Rosa Aguilar Aguado from Uriangato. She incorporated lots of typical symbols, natural elements and motifs from Guanajuato's traditional culture to produce a harmonious whole in the characteristic reddish-brown colours of the region. Afterwards Mark Schautteet, the Brussels Flower Carpet's permanent designer, translated her design into a floral creation in life-size format.
The large number of details means this is the most complex design since the very first Flower Carpet in 1971. Its construction also promises to be a truly amazing feat. Around a hundred volunteers will assemble the gigantic flower puzzle measuring 75 by 24 metres in less than eight hours. Good for a surface of over 1,800 square metres, including dahlias, grass and bark, in addition to the famous Belgian begonias from the region of Ghent. On this occasion, the permanent volunteers of the AVBS (Flemish Nurserymen and Growers Federation) will be helped by Mexican and foreign carpet layers.
Visitors can admire this unique design from Thursday 16 to Sunday 19 August inclusive. The balcony of Brussels Town Hall offers a breath-taking view of the scene.
Unesco monuments in flowers
However, this year there's more because it is twenty years exactly since the Grand-Place in Brussels was recognised as a Unesco World Heritage site. What better way to celebrate this than ... yes, with flowers!
At the invitation of the Flower Carpet's organisers, the Comisión Gestora Internacional de Alfombristas de Arte Efímero brings over dozens of carpet artists from Spain, Italy, Germany, Malta, Japan and Mexico to the Belgian capital for a unique floral exhibition in front of the Brussels Stock Exchange building: "Monuments of Unesco in Flowers".
With the Grand-Place as the backdrop, the various delegations will each create a small carpet depicting a Unesco monument, thus demonstrating their distinctive working method and style. Besides flowers other natural materials will also be used. There will be eight ephemeral creations allowing visitors to embark on a journey along some of the most spectacular landmarks in the world. For Belgium a team of children from Brussels will produce a floral design of Brussels City Hall.
The international committee brings together thirty or so organisations of flower carpet artists from Europe, Latin America and Asia - including the Flower Carpet association from Brussels and La Octava Noche from Uriangato. The umbrella organisation organises joint projects and conferences to encourage the exchange of experiences and techniques and further promote and spread knowledge of this ephemeral carpet art. It is also putting together a case to obtain recognition from Unesco for this transient art form as intangible cultural heritage.
"Monuments of Unesco in Flowers" will be constructed on Friday morning 17 August and can be visited free of charge up to and including Sunday evening 19 August.
Flower Carpet 2018: practical information
Programme:

Flower Carpet "Guanajuato, cultural pride of Mexico" at the Grand-Place

Construction of the Flower Carpet: 16 August, 5.00 a.m. to 12.00 noon
Official opening with sound and light show: 16 August, 10.00 p.m.
Visit to the City Hall balcony:

16 August, 1.00–6.00 p.m. (last admission: 5.30 p.m.)
17-19 August, 10.00 a.m.-10.00 p.m. (last admission: 9.30 p.m.)

Sound and light show: 17–19 August, 9.30-11.00 p.m.

"Monuments of Unesco in Flowers" exhibition on Place de la Bourse

Construction of the Unesco carpets: 17 August, 8.00 a.m. to 3.00 p.m.
Official opening: 17 August, 5.00 to 6.00 p.m.
Exhibition visits: 17-19 August, all day

Tickets:
Panoramic view from the City Hall balcony: € 5.00 in presale, € 6.00 at the entrance (free for children under 10)
On presale from 17 May 2018 on www.flowercarpet.be or in Visit Brussels tourist information points (tickets with priority admission without queuing)
On sale at the entrance on the day of your visit (tickets with standard admission)
The Grand-Place and Unesco exhibition are accessible during the entire event.
Groups of 15 persons and over: contact

[email protected]
Facebook clip
MP4 - 6.5 Mb
Download