"Brussels in Bloom": a bouquet of colours and scents in the city centre
From 15 August to 5 September 2021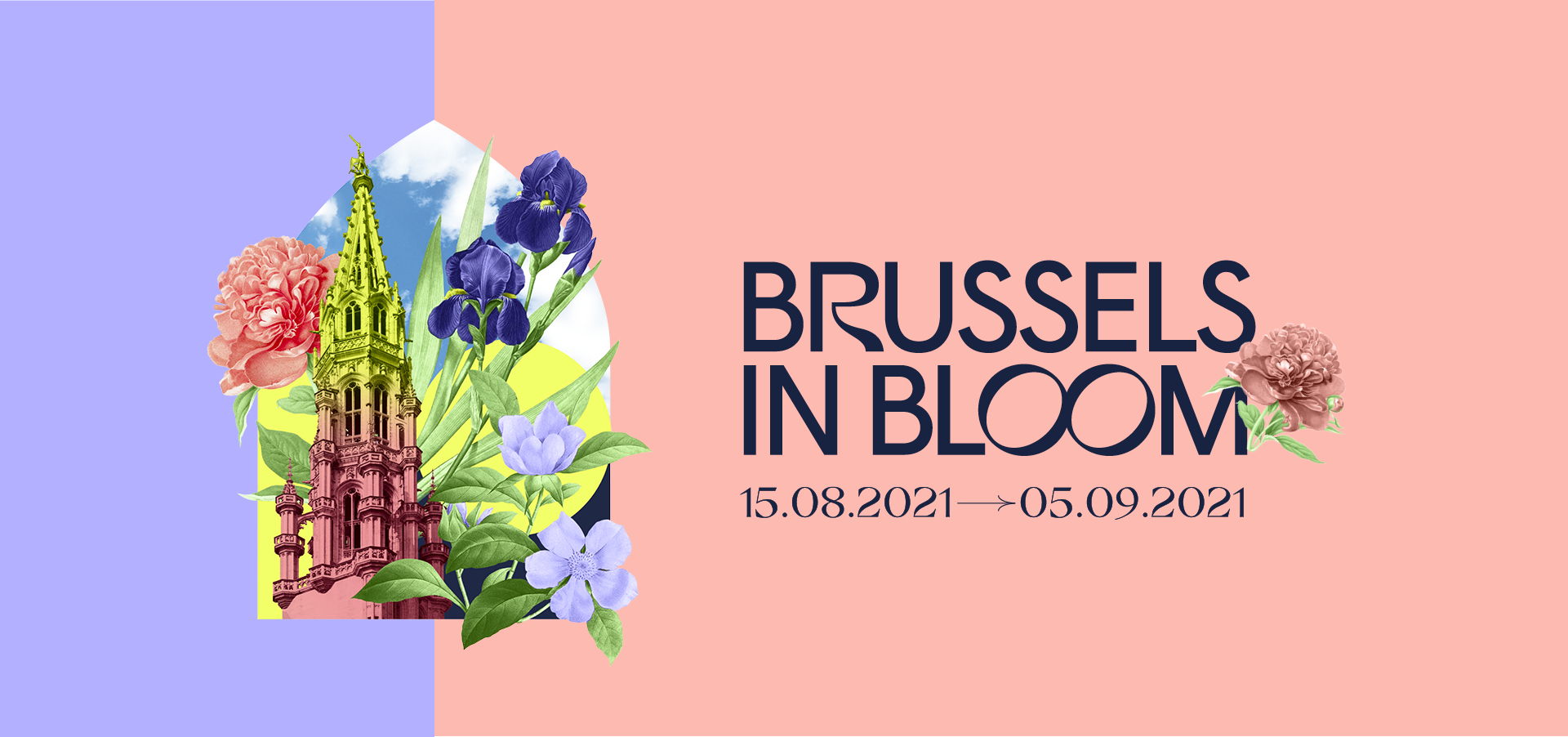 Flower lovers can once again indulge themselves in the European capital. The City of Brussels, the non-profit organisation Tapis de Fleurs de Bruxelles and Floraliën are joining forces for the first edition of "Brussels in Bloom". This unprecedented event will take you on a floral journey through the streets around Brussels' Grand Place.
This summer, the Brussels flower tradition will be maintained. Over the past few months, the organisers have redoubled their efforts and creativity to offer the public a unique event. Exclusively this year, the Flower Carpet will be transformed into a genuine floral sky with a thousand and one colours! The Grand Place, the balcony of the City Hall, the Manneken Pis district and the Galeries Royales Saint-Hubert will be covered in petals from 15 August to 5 September.
An original, Covid-safe alternative
"With Brussels in Bloom, we are offering an original alternative for flower lovers. Moreover, by spreading the event over several weeks and in several locations, we are ensuring that health regulations are respected so that the public can stroll around without having to worry. We are delighted that cultural life and events can finally restart and the City of Brussels wishes to give it its full support", explains Delphine Houba, Alderwoman for Culture and Big Events of the City of Brussels and President of the Brussels Flower Carpet association.
A nod to Flowertime
As with Flowertime, the biennial flower event held in Brussels City Hall, the organisers of the prestigious Floraliën (the Ghent Floralies) are also involved in Brussels in Bloom.
Pieter Toebaert, general manager of Floraliën: "Floraliën is happy to support this initiative. For the opening weekend, we will be working with a number of renowned florists to decorate various parts of the route around the Grand-Place with fresh flowers and plants. This will be a nice nod to Flowertime's floral artwork. We are also keeping a close eye on trends in floral art, and for the longer-lasting outdoor decorations, the public will have the opportunity to enjoy creations that combine artificial flowers with a genuine natural look and natural materials."
Plan your visit:
"Brussels in Bloom", from August 15 to September 5, 2021
Free admission, no reservation required
The route (+/- 30 minutes) is signposted by information panels and starts in the inner courtyard of the Brussels City Hall.
Brussels in Bloom in 16 'stops'
Starting at the City Hall, the route then winds its way through the charming little streets around it. There are 16 'stops' along the route, where established artists and young talents will vie with one another's creativity and skills to send out a message of hope and resilience in the universal language of flowers.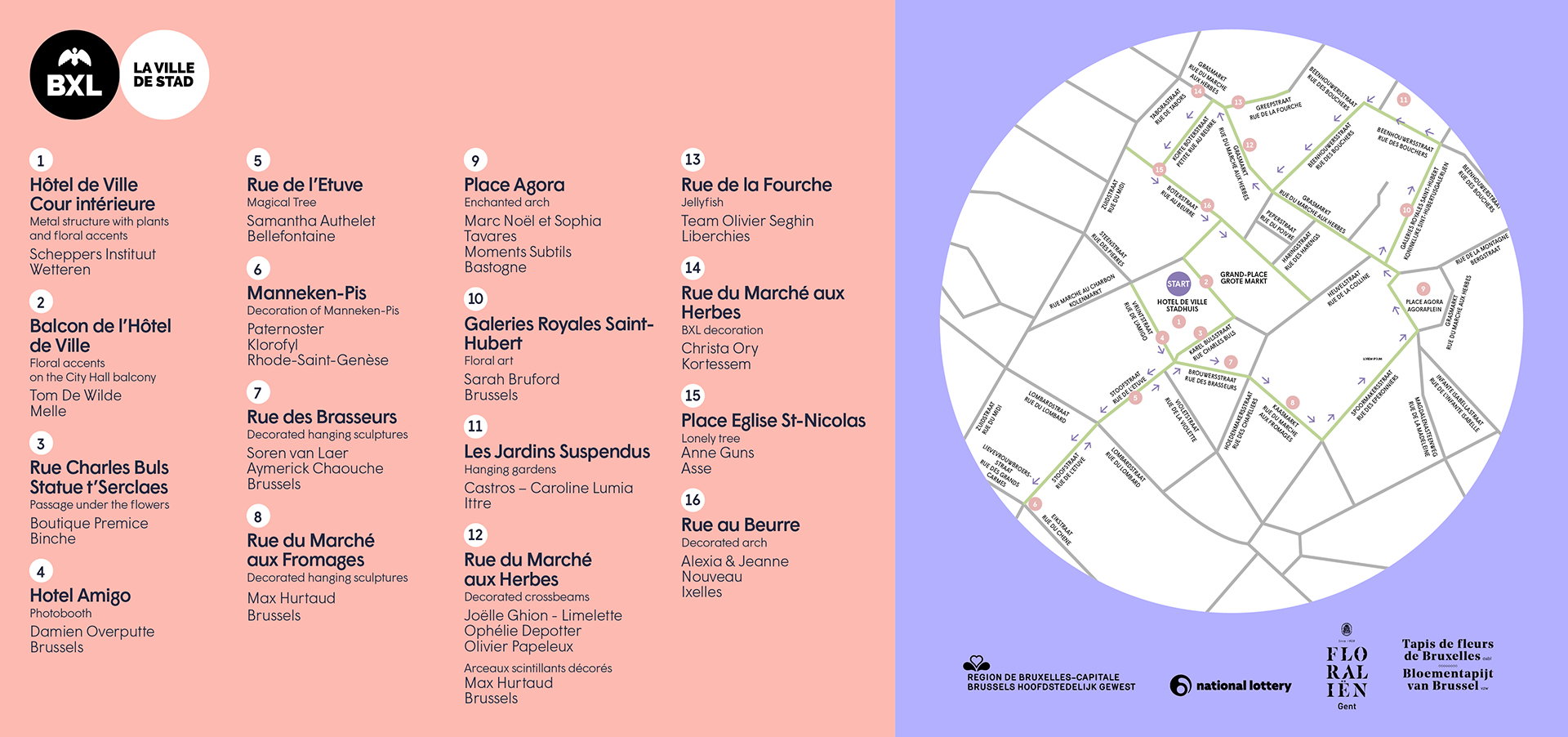 1. City Hall – Inner courtyard
Metal structure with plants and floral accents
Scheppers Instituut – Wetteren
Rise Above is a project by pupils from the horticulture department of the Scheppers Instituut high school in Wetteren. Initially, the project was going to depict a futuristic water world, highlighting humanity's resilience in the face of climate change. But following the tragic floods of recent weeks, Rise Above has become a tribute to the victims. The work will be exhibited in full at the Ghent Floralies in 2022.
2. Balcony of the City Hall
Floral touches on the City Hall balcony
Tom De Wilde — Melle
Tom De Wilde's favourite activities include picking and collecting flowers, creating floral designs and decorating rooms. Working with flowers is his way of expressing himself. He passionately passes on this love of the craft to a new generation of talented florists, because, as he likes to say: "Once the seed has been planted, the flowers and plants take root in you for life."
3. Rue Charles Buls - t'Serclaes monument
Tunnel of flowers
Prémices flower shop – Binche
Prémices is a flower shop located in the historic centre of Binche, where owner Oriane shares her passion for fresh and dried flowers. Through its movement, which symbolises the highs and lows of a human life, this ephemeral work – named Vagues à l'âme (melancholy) – prompts us to reconsider the eternal cycle that carries us on and on…
4. Hotel Amigo
Photobooth
Damien Overputte — Brussels
Damien Overputte studied at Namur art school. His passion for flowers then led him to famous Belgian florist Daniel Ost, from whom he gleaned valuable experience that has enabled him to flourish as a florist. His team consists of Rudy Sainte and Micheline Vansintjan, who shares her expertise in floral art teaching, journalism and event organisation.
5. Rue de l'Étuve
Decorative arch
Samantha Authelet – Bellefontaine
Twenty-eight-year-old Samantha Authelet is from Luxembourg province. She opened her own shop three years ago and is always up for a challenge, no matter how outlandish. Nature and raw, natural materials are her biggest inspirations. Through this installation, she pays homage to the beauty of Mother Nature when humans cease to control it.
6. Manneken-Pis
Decoration of the Manneken Pis
Klorofyl Flower Design — Boeket de Fleurs — Rhode-Saint-Genèse
Nowadays, Klorofyl is no longer a store, but a concept offering floral creations and installations for any event. From providing crowns for festivals to decorating venues and running team-building sessions, this luxury, custom service is available throughout Belgium in two languages in order to meet the every need of professionals in the sector.
7. Rue des Brasseurs
Decorated sculptures
Sören van Laer and Aymeric Chaouche – Brussels
For these two locals, nature is an inexhaustible treasure trove of colours and sounds, shapes and rhythms. However, their mission in art is not to copy nature, but to express it. Through this creation, Sören and Aymeric share with us a piece of nature, which we are invited to experience, breathe in, contemplate, but - above all - to respect. For them, man is a simple element, a constituent but not necessary part, of Nature and in no way its master.
8. Rue du Marché aux Fromages
Hanging decorated sculptures
Max Hurtaud – Brussels
Max Hurtaud dreamed of becoming a florist from the age of three. Since then, he has grown in more ways than one and now travels the world, decorating it with flowers. From exhibitions to workshops, he shares his passion with others. Decorating the streets of his adopted hometown is a true honour for him and a dream come true. His installation is a sumptuously colourful floral world bursting with more than 1250 beautiful, varied flowers to bring a touch of happiness to these troubled times.
9. Place Agora
Enchanted archway
Marc Noël and Sophia Tavares – Moments Subtils – Bastogne
Maria Sofia Tavares and Marc Noël have been running their shop in Bastogne, Moments Subtils, since 2015. Together, they are three-time winners of the Château de Belœil's Amaryllis competition, among a host of other awards. With their installation Arche Enchantée (enchanted archway), they bring land art – a contemporary art trend that uses the backdrops and materials provided by nature – to an urban setting.
10. Galeries Royales Saint-Hubert
Floral art
Sarah Bruford – Brussels
Sarah Bruford is an Australian-born Belgian artist. After numerous years spent working all over the world, she finally settled in Brussels, where she opened her studio KA PAI ('well done' in Māori). Her creation, Joyeux Nuages (happy clouds), is composed of 18 clouds of hydrangeas suspended from the arcade's stunning glass roof. This 'living' installation is constantly changing, conveying a message of hope: every cloud has a silver lining.
11. Rue des Bouchers
Hanging gardens
Castros – Caroline Lumia – Ittre
A real breath of fresh air, sheltered from the city's noise and pollution, the Îlot Sacré neighbourhood goes green as the plants take over its 24 cables. Through this resolutely current installation, visitors and residents alike will feel like they are in a lush oasis populated by a clever blend of ivy, flower cages, eucalyptus and ferns.
12. Rue Marché aux Herbes
Decorated passageways
Joëlle Ghion – Limelette
Ophélie Depotter
Olivier Papeleux
Resplendent decorated arches
Max Hurtaud – Brussels
The passageway is adorned with straw wreaths connected to one another by pink sweet peas to symbolise the return of the "sweet life" that we all aspire to. The second passageway is decorated with barbecue wood chunks and pink and orange gerberas to bring 'a splash of colour to the world'.
13. Rue de la Fourche
Jellyfish
Team Olivier Seghin – Liberchies
Olivier Seghin, an independent florist since 2006, fell into the world of horticulture from a young age. He loves challenges both big and small, as well as the chance to test out new materials. His colourful work is an allegory for plastic pollution in the oceans.
14. Rue Marché aux Herbes
BXL decoration
Christa Ory – Kortessem
Christa Ory loves Brussels just as much as she loves adorning this vibrant, diverse capital with flowers. For this first major floral event following the COVID-19 pandemic, she has put together a composition of bright, cheerful colours exuberantly celebrating BXL by sending out a positive, joyful message.
15. Place Église Saint-Nicolas
Lone tree
Anne Guns – Asse
Inspired by the words of the song Love by Jewel Akens, her project Arbre Solitaire (lone tree) speaks of love, flowers and trees. Not at all surprising from someone who believes that, when you love flowers, there's no such thing as work, and that each day spent with them brings beauty and solace. True bliss.
16. Rue au Beurre to the Grand-Place ​
Decorated arch
Alexia & Jeanne – Ixelles
Alexia and Jeanne run Nouveau, a flower shop in Ixelles. They love working with seasonal flowers, but they want them colourful, 'pimped up' and fun so they'll bring laughter and joy. You've guessed it: at Nouveau, everything is fun, wild and bountiful.
Say it with flowers
And to spread the magic of flowers even further, Floraliën and Do Flowers have a special gift for residents and businesses in the Saint-Jacques neighbourhood: they'll be able to order a planter filled with compost and petunias for just €15. There's no excuse not to cover every inch of your balcony, windows or patio with flowers! ​
Brussels in Bloom in pictures
Acknowledgments:
The Brussels Flower Carpet association extends its sincere thanks to:
the participating florists
the City of Brussels and its services
Brussels Major Events
Koninklijke Maatschappij voor Landbouw en Plantkunde – Floraliën Gent
Brussels Capital-Region
the Belgian National Lottery
Visit Brussels
the Royal Saint-Hubert Galleries
Hotel Amigo
retailers in and around Brussels' Grand Place
… and all the partners that contribute to the success of this event.