The Brussels Grand Place rolls out its 21st Flower Carpet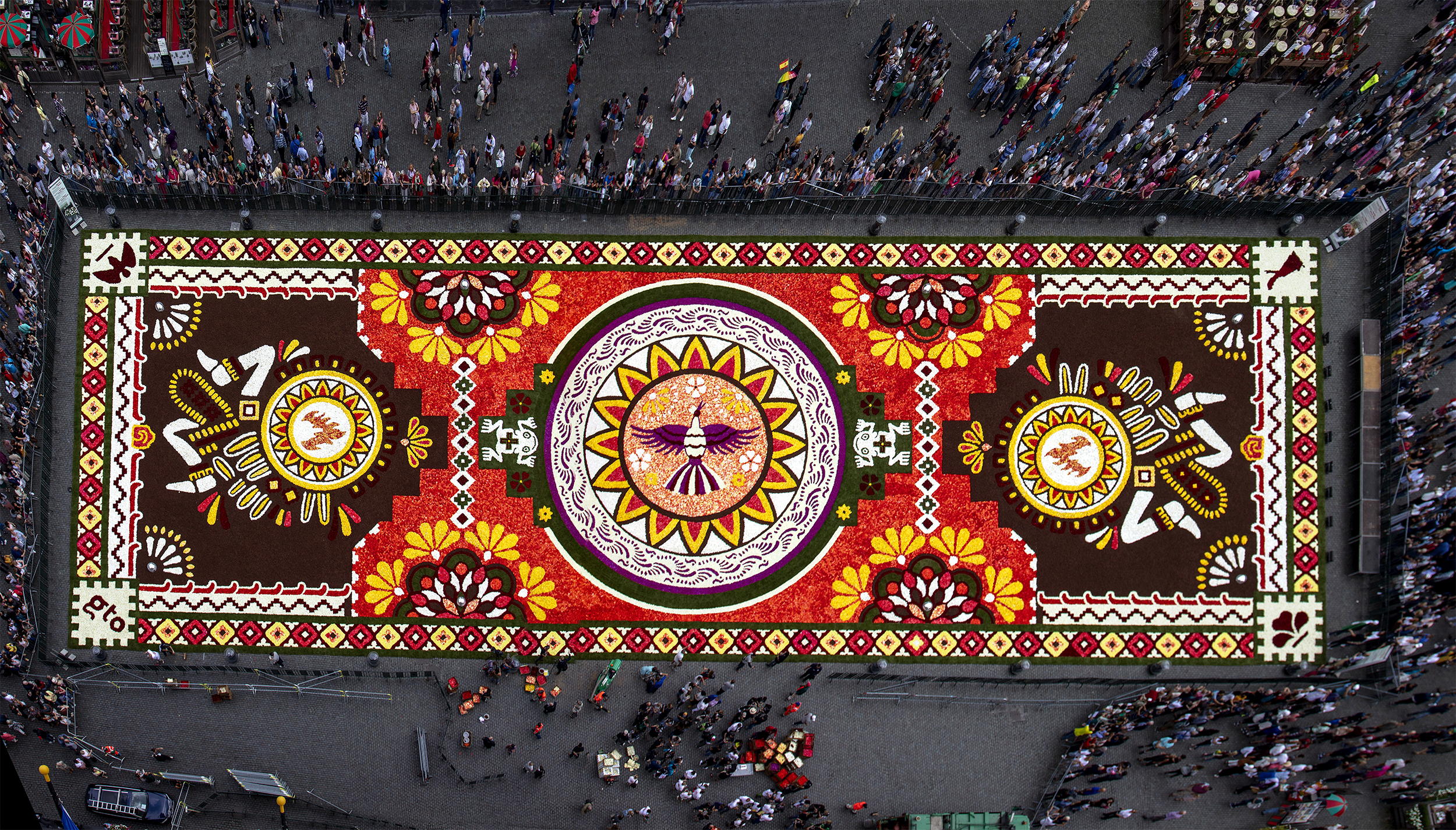 Following months of preparations, the time has finally come: over the next three days you will be able to admire the 21st Flower Carpet on the Brussels Grand Place in all its glory. The theme of this edition is Guanajuato, the cultural pride of Mexico. Tomorrow there will be another exhibition featuring smaller flower carpets at the Brussels Place de la Bourse, on the occasion of the 20th anniversary of the Grand-Place being recognised as a Unesco World Heritage site.
Did you know?
For the first time in its history the Flower Carpet shows a Latin American look. "Guanajuato, the cultural pride of Mexico" is the central theme. The colourful Mexican state of Guanajuato, has a long tradition of creating carpets, just like Brussels. The annual highlight is "La Octava Noche" in Uriangato. There, residents decorate kilometers of streets with carpets of coloured sawdust in memory of their saint patron, Archangel St. Michael.
The original design of the carpet was produced by the young graphic designer Roo (Ana Rosa Aguilar Aguado) from Uriangato. She incorporated typical symbols, natural elements and motifs from Guanajuato's traditional culture to produce a harmonious whole in the characteristic reddish-brown colours of the region. The large number of details means this is the most complex design since the very first Flower Carpet in 1971. Some elements are barely six centimetres wide.
The large number of volunteers of the AVBS (Belgian Nurserymen and Growers Federation) have been helped by Mexican and foreign carpet layers. In less than eight hours they have assembled a gigantic flower puzzle measuring 75 by 24 metres covering a surface of 1,800 sq, including dahlias, grass and bark in addition to the famous Belgian begonias from the Ghent region. 500,000 flowers were used in total.
The Brussels Grand Place was recognised as a Unesco World Heritage site exactly twenty years ago. To celebrate this, the organisers of the Brussels Flower Carpet invited the Comisión Gestora Internacional de Alfombristas de Arte Efímero to participate in a floral exhibition on the Place de la Bourse, called 'Monuments of Unesco in flowers'. International flower carpet artists will each create a carpet depicting a Unesco monument from their particular country. This exhibition opens tomorrow.
Practical information:
Admission to the Grand Place is free. There is only a charge to access the Town Hall balcony (providing a panoramic view of the carpet). Tickets can be purchased at the entrance and cost €6 per person (free for children aged ten and under). Online purchases are no longer possible (presale tickets).
Flower Carpet "Guanajuato, cultural pride of Mexico" at the Grand-Place
Official opening with sound and light show: 16 August, 10.00 p.m.
Visit to the City Hall balcony:
16 August, 1.00–6.00 p.m. (last admission: 5.30 p.m.)
17-19 August, 10.00 a.m.-10.00 p.m. (last admission: 9.30 p.m.)
Sound and light show: 17–19 August, at 9.30, 10, 10.30 and 11 p.m.
"Monuments of Unesco in Flowers" exhibition on Place de la Bourse
Construction of the Unesco carpets: 17 August, 8.00 a.m. to 3.00 p.m.
Official opening: 17 August, 5.00 to 6.00 p.m.
Exhibition visits: 17-19 August, all day
Press file Brussels Flower Carpet 2018
PDF - 1.6 Mb
Download